Super Spellers
E-learning startup Super Spellers engaged Arch to define, design and develop a fantastic new platform that engages children through colourful educational games.
About The Client
www.superspellers.co.uk
Super Spellers is an exciting new spelling game, designed to support children aged 5-11 with building core spelling skills. Set in a dynamic gaming environment, Super Spellers allows students to strengthen their confidence in spelling, combining comic-style characters and fun score building functionality to heighten engagement and make learning fun.
Achieved through a range of exciting games and adhering to English Appendix 1, the Super Spellers platform employs research in the gamification of learning experience to enhance knowledge retention. ​Super Spellers focuses on building up habitual, subconscious references for phonemic and phonological awareness, as well as working constructively over time to develop students' sub-vocalisation skills, all essential for cementing dependable spelling skills.
The Problem
New tests show 1 in 4 struggling with spelling, punctuation and grammar according to figures for reading, writing and maths assessments taken by more than half a million 11-year-olds. The team at Super Spellers wanted to change this, formulating a brief for an online game that would increase engagement and interest in learning spelling amongst primary school-age children.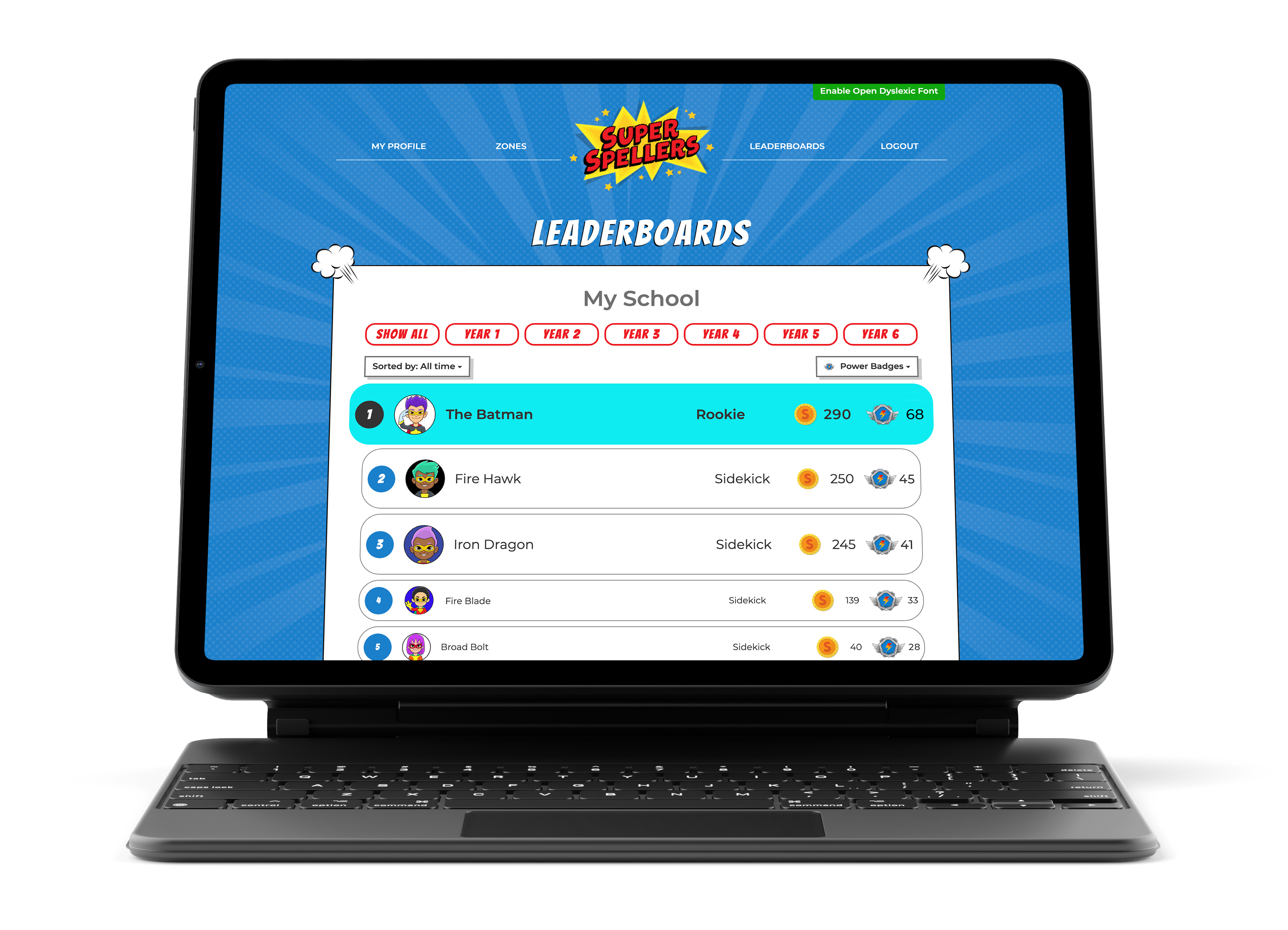 The Solution
Arch created an online platform that allowed for easy interaction by 2 main user groups, students and teachers. The platform, while seeking to provide an engaging alternative to traditional means of learning spelling and grammar also addresses the issue of teacher's workloads, coming with pre-created and approved lists that can be assigned based on UK national curriculum guidelines.
The individual learning pace of students has also been addressed, with teachers having full control over individual students goals and lists, to help ensure they're succeeding at learning at the right speed. The platform is also rewarding of trial efforts, featuring gamification features such as points scoring and digital rewards.
Check out the Super Spellers Promotional Video
Teacher Zone Features
Easy to create class and student set up.
Preset word lists following national curriculum guidelines. Review and set from preset word lists applied from English Appendix 1.
Create your own word lists. Use this feature to set up a spelling test with words relating to a particular subject for the week or term.
Create word lists for students' abilities using sets.
Forward plan your spelling tests for the terms ahead.
Case-sensitive word lists available to set words beginning with a capital letter.
Set a timer on the Mission zone to enhance the gameplay.
Shareable customised word lists.
Review students' test results.
Reward for effort and results. Filter class results by playtime to reward the effort a student has applied, not just the number of coins they have accumulated.
Send students private messages to congratulate or give feedback on words they are consistently spelling incorrectly.
Students can play in the classroom and at home.
Student Zone Features
Fun, exciting, engaging spelling game.
Designed for children aged 5-11.
Gamification applied.
Personalised username and avatar.
Competitive leaderboard.
Level up process to allow your hero to become the ultimate Super Speller.
Reward for effort and results. Be rewarded for the amount of gameplay you achieve in a week.
Adaptable for students' level of learning. Spelling tests can differ for each child depending on their ability.
Play against the clock.
Receive messages and feedback from your teacher.
Play at school and at home.
Project Testimonial
"Arch's high-quality work has satisfied internal requirements and garnered good feedback. Responsive, enthusiastic, and accommodating, the team is easy to work with. They resolve problems quickly and are happy to talk through ideas to ensure total client satisfaction."
Related Case Studies
Study Buddy
FutureMe Study Buddy is a new education platform in partnership with further and higher education institutions...
EXPLORE
Clozer
We worked with Clozer to design a new web3 platform which connects users to the biggest and best from the...
EXPLORE
Family Lives
We worked with Family Lives to bring to life a new vision for their charity website and develop more intuitive...
EXPLORE
We'd love to chat about your project!
We're here to help. If you've got an idea or a direct need you would like help addressing, we're all ears!