What is Website Accessibility?
Website Accessibility (and Accessibility in general) is many things to many people. For some, it's the tools and technologies designed to allow disabled people to have equal and easy access to the internet, regardless of any barriers they might face. These barriers could be auditory, cognitive, neurological, physical, speech or visual. For others, it's an overlay that helps to augment a website – meaning content can be enjoyed by as many people as possible. Regardless of how it's addressed, accessibility comes down to the opportunity for users of all backgrounds to access resources, products and services.
According to Scope, a leading UK disability charity, 13.9 million in the UK are living with a disability, however, as of 2019, 90% of the web is inaccessible to the majority of disabled citizens. Could you imagine only being able to use 1 in 10 of your favourite apps and websites?
In this blog, I'll introduce you to some of the aspects of accessibility in digital products that you may not of considered and key you in on ways in which you can ensure accessibility is organically threaded throughout your online ecosystem.
Types of disabilities
There are 3 types of disabilities, the last of which you may never have considered:
Permanent Disabilities - This group includes people like me who have a permanent condition, and would typically find it difficult to use an application that requires two hands, or a lot of coordination to utilise its functionality.

Temporary Disabilities - This includes anyone who has sprained their wrist, broken an arm, a collar bone, or just thinks they look good in a sling! I.e. people who can temporarily only use one hand. This is a huge proportion of your potential client/customer base. If people with one arm can't use your app then people in a cast can't either.

Situational Disability - Officially every single customer or user! They will statistically not be included in the aforementioned Scope statistic, however, for a few moments in their day, they won't be able to utilise one of their hands because they're holding a coffee cup, carrying shopping or a bag, they might be holding a baby, or even just have one hand in their pocket.
We're no longer just talking about disabled people, are we?
Why build Accessible Software?
A common misconception about accessibility in general is that it's a lot of effort, time and money for a reasonably small potential market. However, this is 20% of the population we're talking about – so it's important not to forget about us! Especially when we have a combined spending power of around £279 billion annually.
Disabled users (of any kind) make up a significant proportion of your user base, regardless of the industry you're in!
It's also your legal duty to ensure your website is 'perceivable, operable and robust' (Guidance for government digital publishing and services) if you operate within the public sector as of 2018 legislation.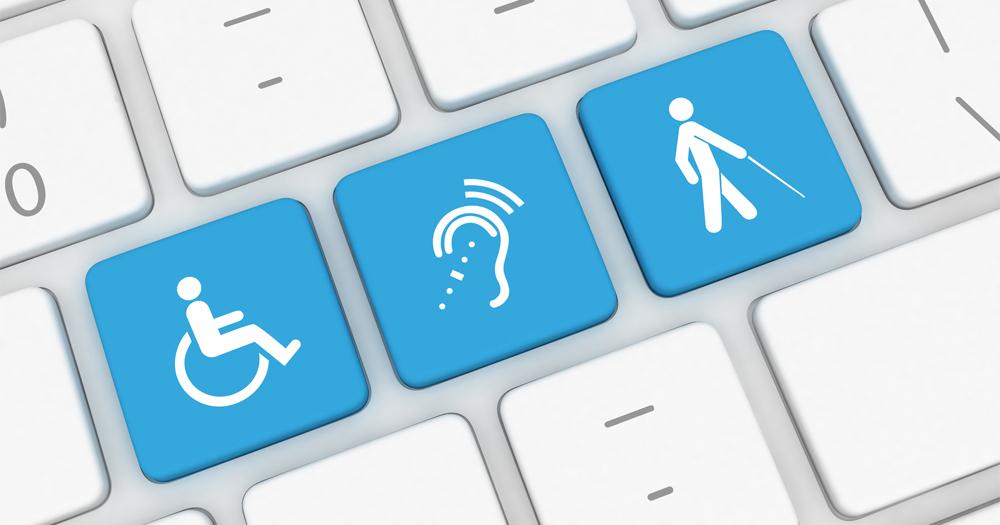 How to build accessible digital products
UX
If you've got to this point, and you're worried you're a part of that 90% that need to do more to make their website or app accessible to all, relax, take a sip of tea and grab a notepad and pen, because I'm about to lend you a saving grace of best practice.
This is where User Experience Design comes in. UX covers all aspects of the end-users interaction with your company, website, services, apps and any other digital products. It isn't about what you think your customers/audience need, it's about meeting and exceeding needs without a fuss, and making it as simple as possible. Good design does this. Poorly researched, inaccessible or bad UX/design is just plain lazy design. If people can enjoy your service and it meets the needs of as many people as possible – it's a UX winner!
By engaging with a company that has solid UX practices, you can help ensure your product is based on usability from the get-go.
User Testing
It's good practice to do user testing before committing to new functions, designs, features or elements. And what better way to meet the needs of your would-be customers than to involve them in testing?
This vital feedback and data can help you improve the UX Journey for all customers. Regardless of your industry, high-quality user experience can only come about by applying this thinking across as many areas as possible. From marketing to UI, if people interact with it, you want their experience to be as positive as possible.
To Summarise
If you're concerned your products aren't meeting accessibility standards, educate yourself. I'd recommend everyone at least learn the basics, and if you create websites hopefully it's something that's already on your radar. But a little awareness of how it should be done is never a bad thing, right? And it might even give you something to ask about the next time you meet with your web designer!
Find out how accessible your website/app is with a Digital Accessibility Audit, I offer one on my site that will help you identify the best route for you to take, whether that's with an overlay, like the one provided by Recite Me or a complete redesign.
Talk to a reputable agency about your ideas. A discovery session with a well-rounded team that is trained in putting usability for all at the heart of your product will put you in good stead to meet the needs of all of your potential users.
This blog was written by our November guest poster, Dean Frank Reynolds, Accessibility and Inclusion Specialist at Dean Frank Reynolds Accessibility
www.deanfrankreynolds.com